>> Access our What Workers Want 2023 findings <<
In a clear sign that the Great Resignation is set to continue into the New Year, the 'What Workers Want' survey by New Possible has found that some 40% of UK employees are likely to look for a new role in the next 12 months.
The survey also found that the average job satisfaction rate across all industries is 72%. Employees working in the creative arts sector reported the highest levels of job satisfaction (81%), with those working in social care emerging as the least satisfied (60%).
In this article, we analyse responses from 2,031 UK employees, to identify the factors that are having the greatest influence on an employee's likelihood to search for a new role, as well as the benefits that employees value most.
What motivates people to search for a new job?
In our survey, employees were asked, apart from salary, what the best and worst aspects of their job are. But how do you turn these open-ended responses into something meaningful? We start by using our AI model to categorise each piece of feedback into the below 16 themes: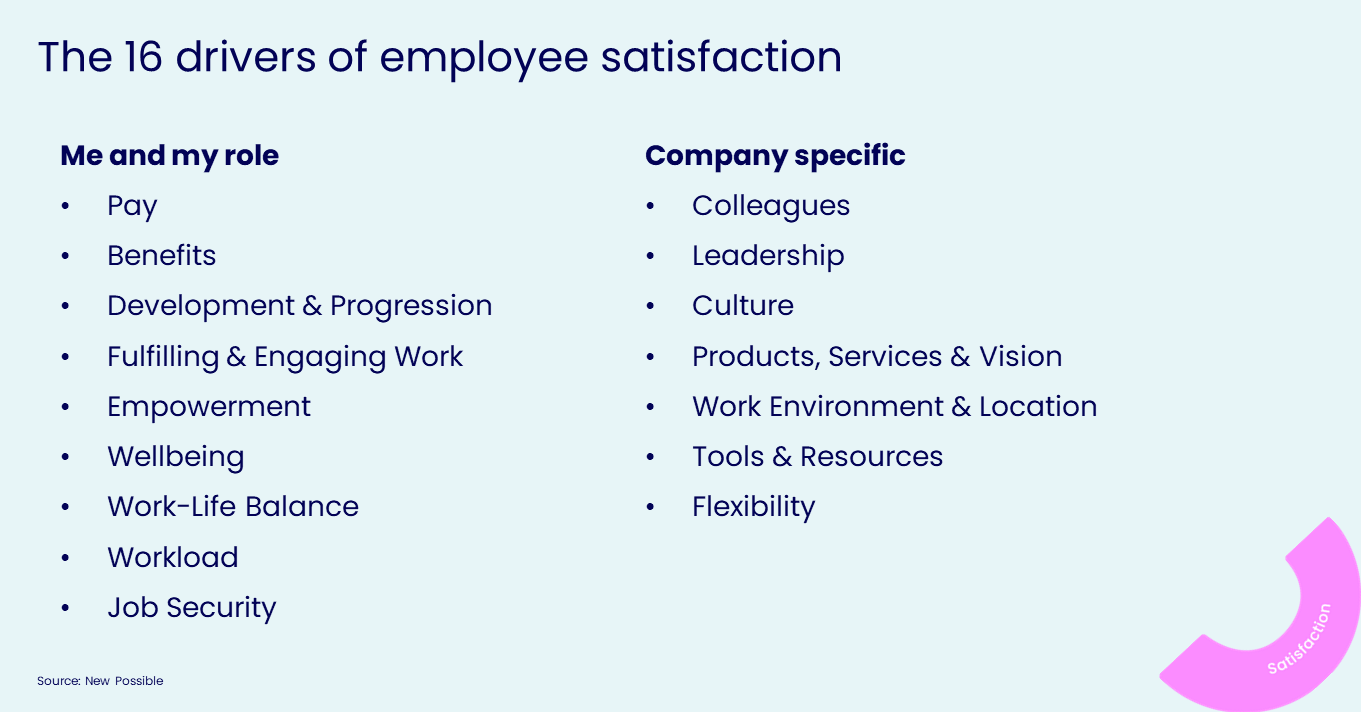 Some themes were talked about more often than others, particularly when it came to what employees liked. 'Colleagues' was mentioned positively by 35% of respondents, followed by 'Flexibility' (23%) and 'Fulfilling & Engaging Work' (20%). Negative feedback was more varied, with 'Culture' (22%) being the most talked about theme.
Although the volume of feedback helps us understand what's front of mind for employees, it doesn't necessarily tell us which themes have the greatest influence on their likelihood to leave.
Therefore, to identify the key drivers that motivate employees to leave or indeed to stay, we have to split the respondents into two groups:
Likely to leave: Those who said they are likely or very likely to leave their job in the next 12 months.
Unlikely to leave: Those who said they are unlikely or very unlikely to look for a new job.
We then analysed the negative feedback for the first group and the positive feedback from the second group. This helps us to discover the key drivers behind employee retention: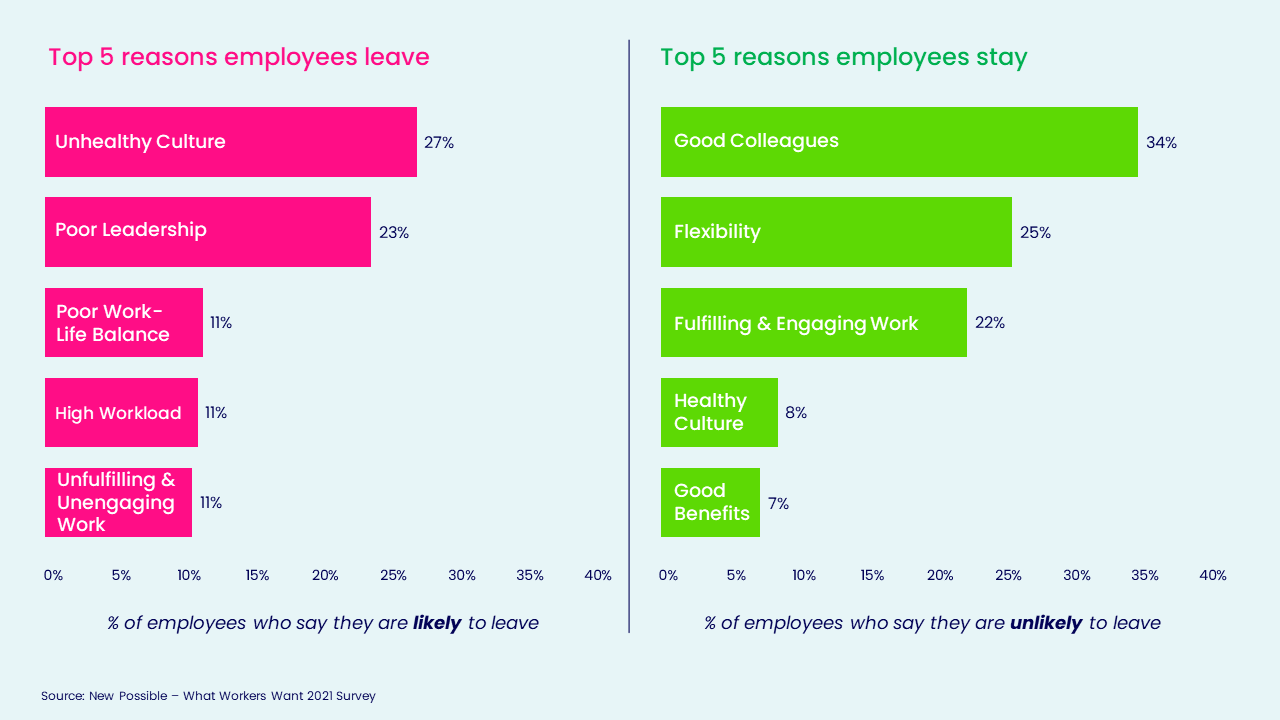 When asked about what they like least about their current role, respondents were clear that an unhealthy work culture and poor leadership have the biggest impact on their likelihood to stay with an employer. A poor work-life balance, high workload and unfulfilling work were also key reasons why many were planning to look for a new job.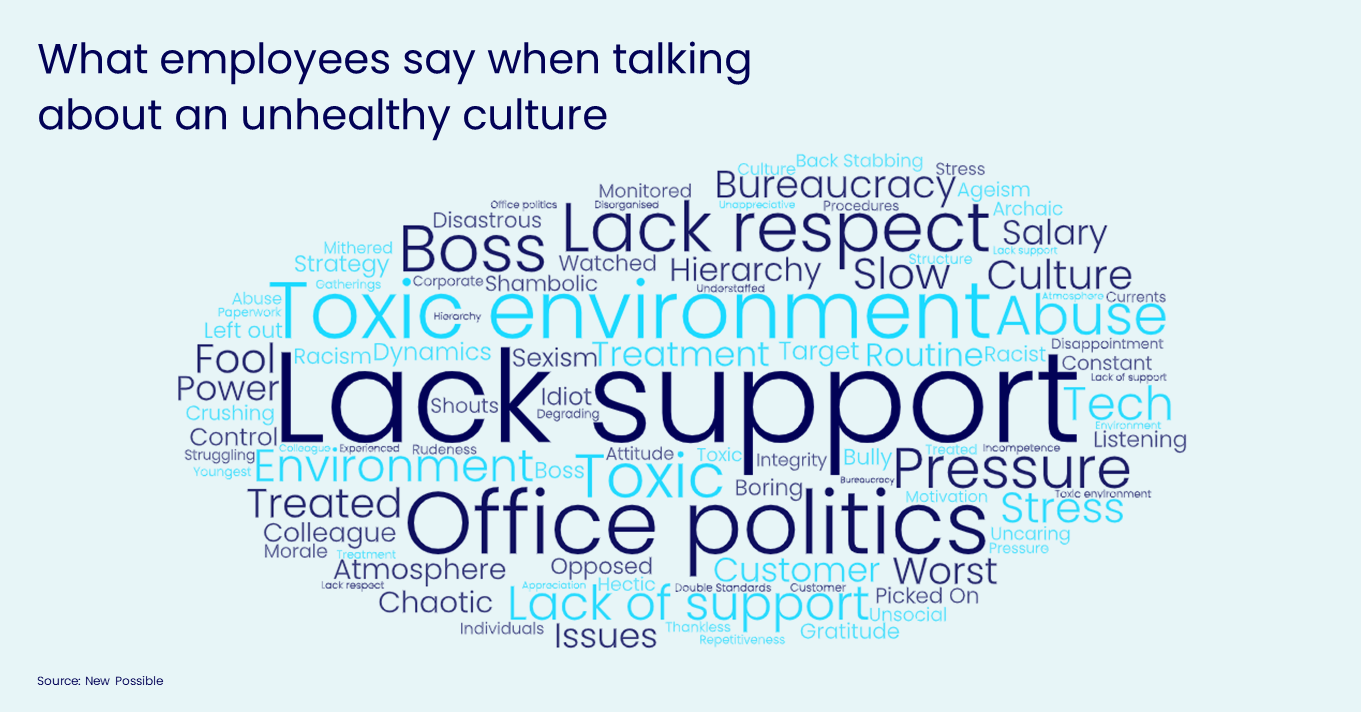 It's clear that an unhealthy culture can be a major turn-off for employees. That's why we've developed CultureCheck, a benchmarkable assessment, structured around the Financial Conduct Authority's 4 drivers of culture: People, Purpose, Governance and Leadership. It's quick for employees to complete, and meaningful insight can be viewed in a real-time dashboard.
When looking at what encourages employees to stay, good colleagues were a key driver. Flexibility at work, a fulfilling role, healthy culture, and good benefits were also highly valued (we'll look at which benefits employees value most later in this article).
The survey responses make it clear that employees are looking for a greater sense of purpose from their work, along with flexibility and work-life balance. The pandemic has likely catalysed this, as lockdowns and other pressures encouraged us to look introspectively and reprioritise what's important to us.
The following interactive chart enables you to deep dive into some of the themes that matter most to employees across five industries. The menu underneath enables you to switch between positive and negative drivers:
Please note: We recommend using a desktop for the best experience.
What benefits matter most to employees?
Survey respondents were also asked about what benefits matter most to them when looking for a new job with flexible hours (67%), working from home (50%) and more holiday (38%) emerging as the most popular benefits.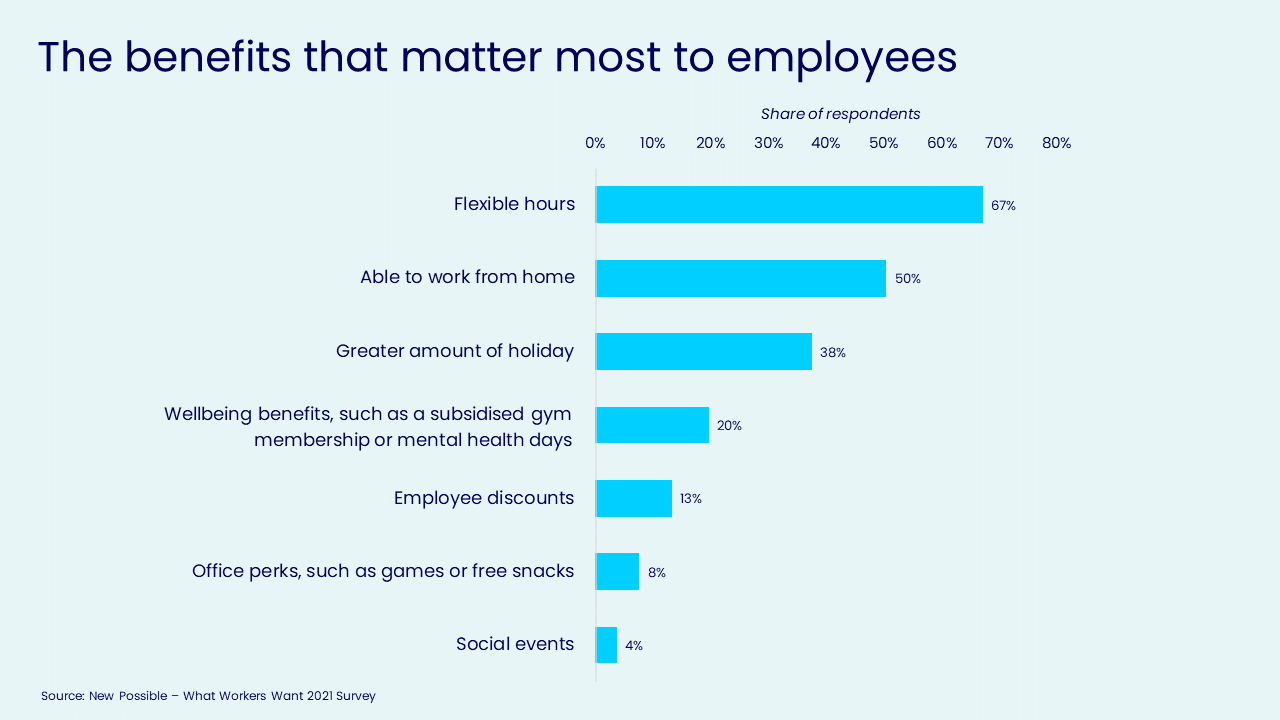 Industry comparison
The findings also suggest that high levels of job satisfaction does not always result in high employee retention. For example, although employees working in the charity sector are among the most satisfied, they're also the most likely to search for a new job. Conversely, those working in social care are the least satisfied and one of the least likely to look for a new job.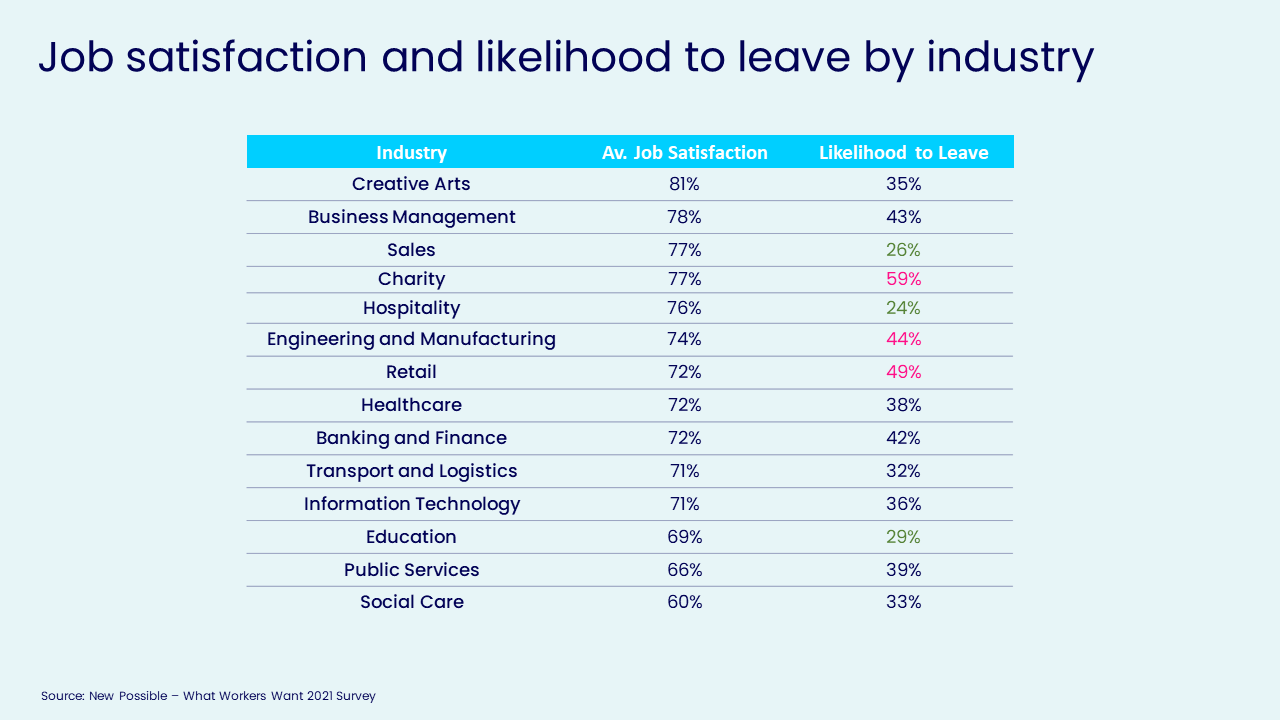 Gen Z and millennials lead the Great Resignation
While Gen Z are often labelled as the job-hopping generation, the survey found that job satisfaction is in fact highest for those aged 18-24. Satisfaction is lowest amongst those aged 35-54, and workers approaching retirement age are least likely to consider leaving their job.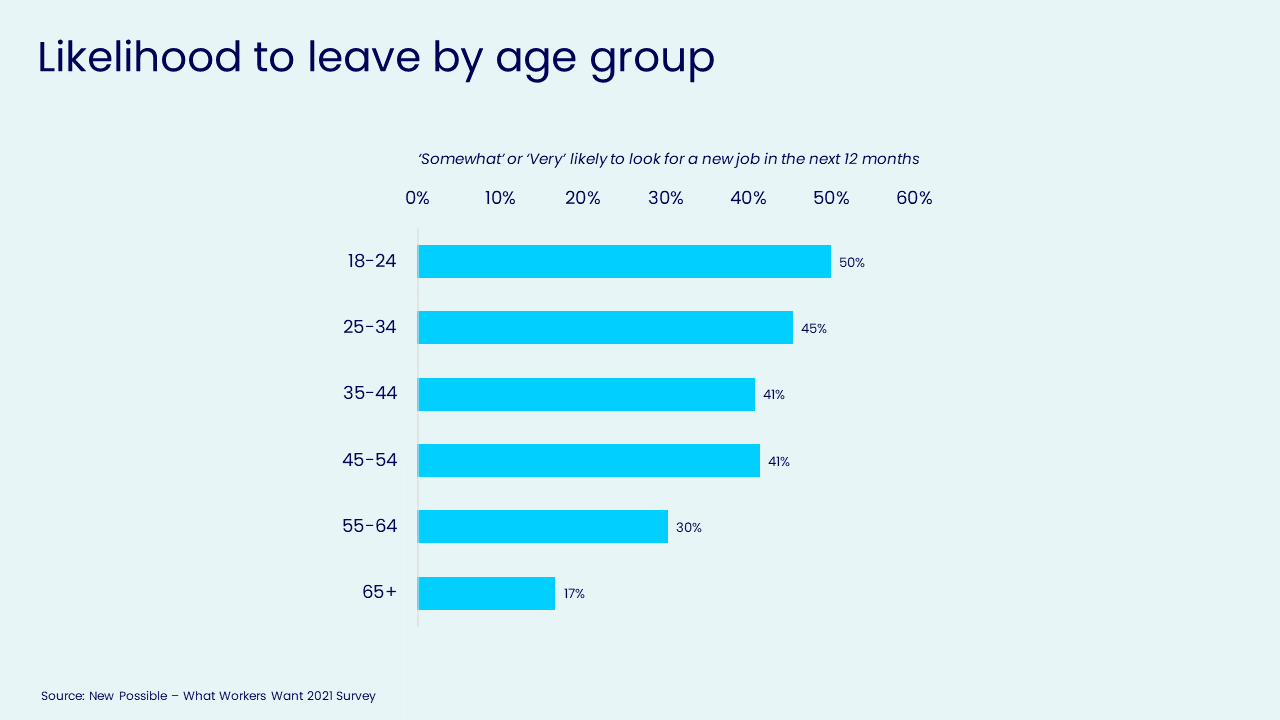 Gen Z and millennials are leading the Great Resignation but are also among the most satisfied. It's the author's view that many young workers are simply unwilling to settle for the kind of working lives that their parents and grandparents experienced. This represents a major challenge to many employers.
Key takeaways
Unhealthy culture and poor leadership are key reasons why employees feel pushed to look elsewhere.
Conversely, good working relationships with colleagues, flexibility and fulfilling work are key drivers that encourage people to stay put.
The top three benefits employees value when looking for a new job, include flexible hours, working from home and more holiday.
The correlation between job satisfaction and employee retention differs greatly across industries.
Gen Z and millennials are fuelling the great resignation, whilst older workers are least likely to consider leaving their job.
New Possible is the next generation employee insight platform that helps to unlock the competitive advantage of your people. Book a demo to learn more, or read about our quest to discover and celebrate the individuals and teams that are passionate about delivering a world-class people experience.
Back to the blog