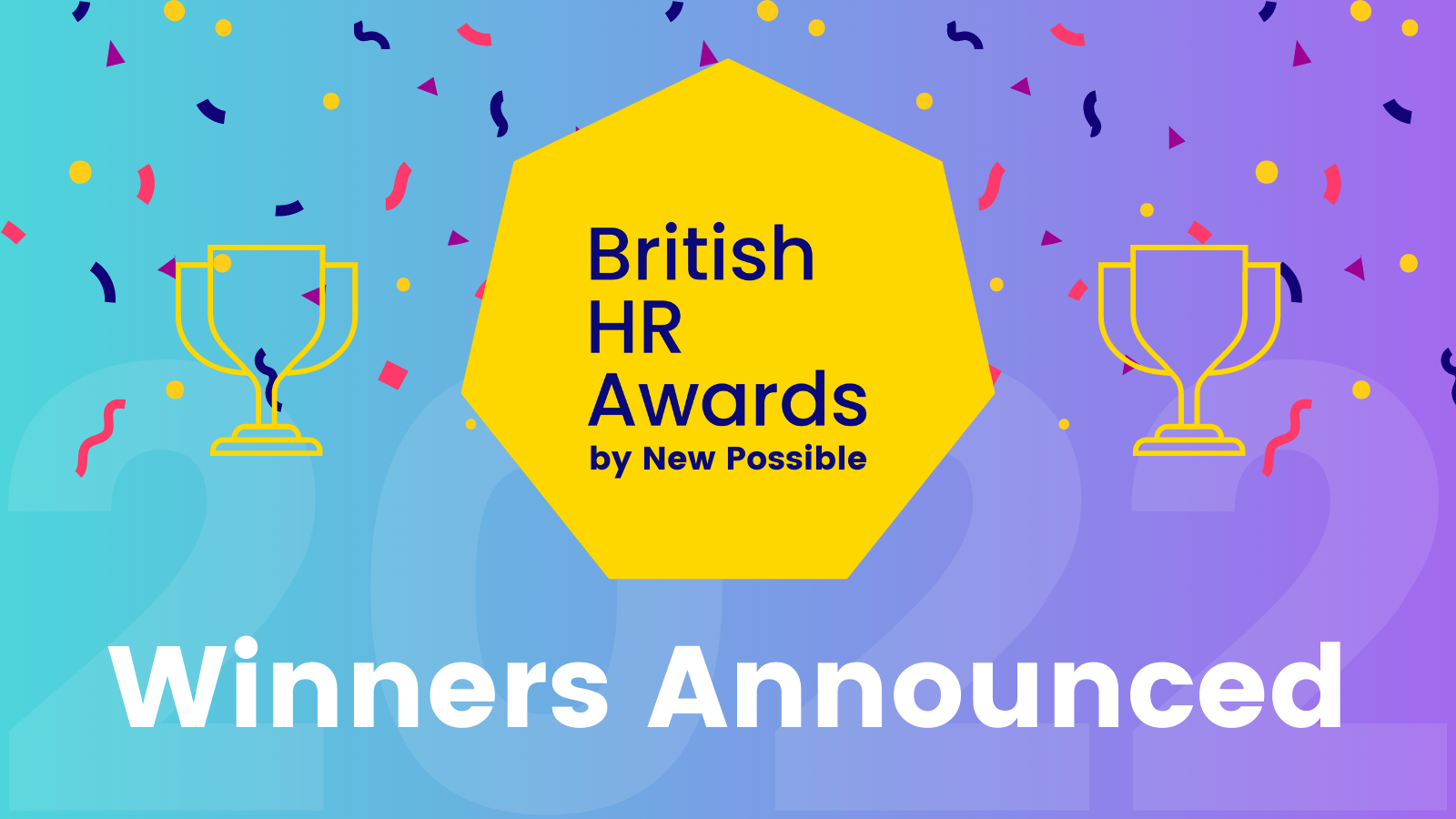 British HR Awards 2022: Winners Announced
Published on 21st April 2022
>> Register your interest for the British HR Awards 2023 <<
With over 100 entries received from organisations all across the UK, competition to take home a British HR Award proved to be very tough. But today, New Possible is delighted to reveal the 2022 Winners!
Run by next generation employee insight platform, New Possible, the British HR Awards sets out to discover and celebrate the organisations and individuals that are truly passionate about delivering a world-class people experience. Organisations taking part this year included innovative start-ups, tech unicorns, global giants, not for profits and everything in between. Irrespective of organisation size, industry or resources, all Winners and Finalists shared how their initiatives are transforming the people experience and delivering tangible value for their organisations.
A huge thanks to the British HR Awards 2022 all-star judging panel for reviewing the entries and sharing their expertise:
Mel Willsmore, People Director at Strike
Perry Timms, Chief Energy Officer at People and Transformational HR
Kelly Stokes, HR Director at Aldi UK
Hannah Reid, People Director at Apple
Melanie Punch, Head of UK Careers at Investec
Neil Piper, Chief People Officer at KFC
Daniel Kasmir, Chief People and Procurement Officer at TalkTalk
Nate Harwood, Founder at New Possible
And so, without any further ado, the full list of Winners and those awarded Highly Commended are: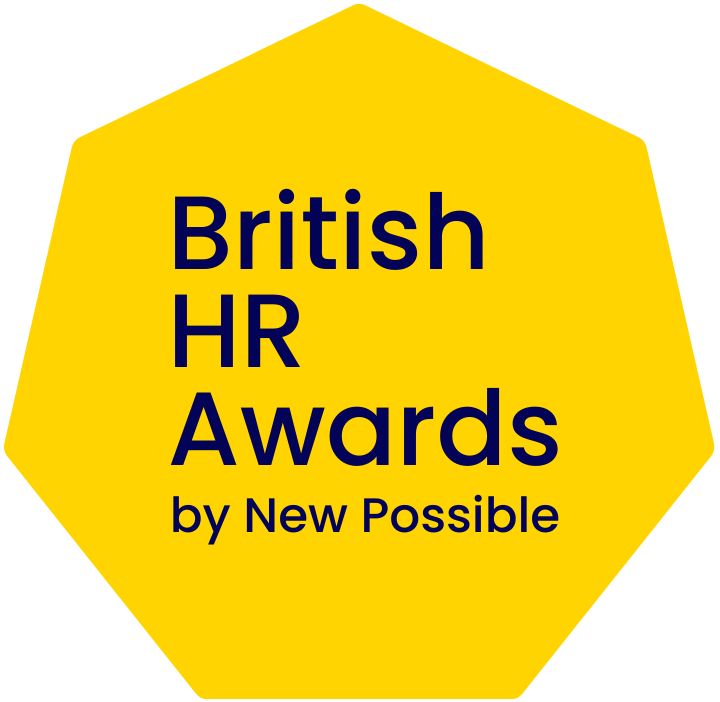 Best Overall People Experience: Cycas Hospitality (Highly Commended: Bank North)
<< The Best Overall People Experience category was determined by employee feedback captured using New Possible's NP360 survey. NP360 provides a 360-degree view of your people experience across 7 themes, including satisfaction, wellbeing and culture to provide clear, meaningful insights which are benchmarked with other firms. Book a demo to find out how New Possible can help you build a healthier business. >>
Employee Wellness Initiative of the Year (Sponsored by Each Person): National Express UK (Highly Commended: Enfuse Group)
Innovation of the Year: Connectr
Start-Up of the Year: Form3 (Highly Commended: Permutive)
SME of the Year (Sponsored by Each Person): Cell and Gene Therapy Catapult (Highly Commended: Institute of Export & International Trade)
Large Organisation of the Year: Northern Gas and Power (Highly Commended: Roche UK)
Leader of the Year: Janet Roberts, Chief People & Culture Officer at Cycas Hospitality (Highly Commended: Kate Howdon, Head of HR at eStar Truck & Van and Liz Dowling, Head of People at VIOOH)
Rising Star of the Year: Beth Gavin, Junior People Partner at Baltic Apprenticeships
Coach of the Year: Verity Symcox, Director of Coaching and Wellbeing at Fifty50
Consultancy of the Year: JG HR Solutions Ltd (Highly Commended: Delve Organisational Development Ltd)
Recruitment Partner of the Year: The ERIC App
Financial Services Company of the Year: The Cumberland Building Society
Technology Company of the Year: VIOOH (Highly Commended: Smiths Detection)
Hospitality & Leisure Company of the Year: Humble Grape
EdTech of the Year: MyTutor
Nate Harwood, Founder of New Possible and British HR Awards judge said: "The British HR Awards have a single aim, to recognise the organisations and individuals that are shaping a new possible for the future of work. We believe that a great people experience is essential to building a healthy business and we're immensely proud to celebrate the leaders that are being bold, transforming the people experience and helping to showcase the best of British HR. Congratulations to all the Winners and Finalists."
National Express UK boarded the victory bus back to their Birmingham HQ after being awarded 'Best Employee Wellness Initiative'. Judges praised their "innovative" 'Health Bus' - a dedicated mobile health facility that travels to sites across the country. It allows employees with unsocial working patterns to access medical checks which they would otherwise find difficult - reaching 11,000 of its people since it launched in 2014. Its 'Mood Circles' - a way of encouraging employees to openly communicate how they feel and access support - was also singled out for praise.
Northern Gas & Power were awarded 'Large Organisation of the Year' for demonstrating "impact focused investment" and a "data-led approach". They also showcased a "strong commitment" to inclusion and diversity, with more than half of employees from minority backgrounds.
The Cumberland Building Society took home 'Financial Services Company of the Year'. The Judges praised that they were "driving change top down" and making a "strong" investment in learning and development, including "extensive" leadership coaching and a 'Power Hour' programme of workshops. The impact of their anti-racism session was a particular highlight.
Permutive were Highly Commended in the Start-Up of the Year category, with Judges noting "progressive policy" and a "thoughtful approach to benefits", including an extensive parental leave policy that entitles all new parents (regardless of gender) with 26 weeks of leave on full pay.
Winners were revealed at a special celebration event in London, hosted by comedian Sally-Anne Hayward. The event also featured a panel discussion titled 'Engaging your workforce in the next phase', moderated by Perry Timms. Panellists included Janet Roberts, Kate Howdon and Kelly Rawles.
The British HR Awards is powered by New Possible, a next-generation employee insight platform. New Possible helps HR leaders build healthier organisations by providing meaningful insight that can drive real change. Find out more about our mission or book a demo.
Back to the blog