Thriving Workplace certification recognises organisations that are delivering an outstanding people experience. It's assessed using New Possible's next generation NP360 survey, which provides a 360-degree view of the people experience across 7 themes, including Satisfaction, Wellbeing, Work-Life Balance, Relationships, Culture, Purpose and Engagement.
Nate Harwood, Founder of New Possible said "We launched Thriving Workplace certification to shine a light on the organisations that are delivering truly exceptional people experiences. By recognising and sharing their success, we hope to inspire a future of work where every organisation is able to unlock the potential of their people. Because when people thrive, organisations thrive."
The NP360 survey asks up to 29 questions across 7 themes, including:
On a scale of 0 to 10, how likely are you to recommend Company X as a place to work?
To what extent do you agree or disagree that you are able to bring up problems and tough issues?
How would you describe Company X in three words?
To ensure robustness, the threshold to achieve Thriving Workplace certification is very high. Organisations must score at least 70% across each of the 7 themes and an overall average of 75%+. At least half of an organisation's employees are required to complete the survey.
About New Possible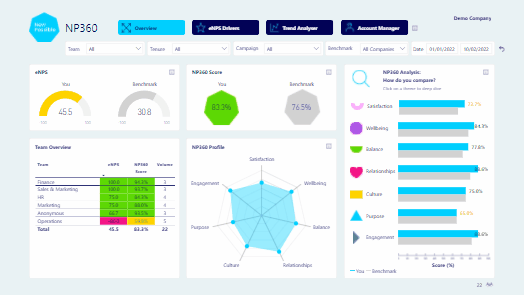 The New Possible insight platform empowers leaders to unlock the competitive advantage of their people and build healthier businesses. Read about our mission, or book a demo to learn more.
Back to the blog