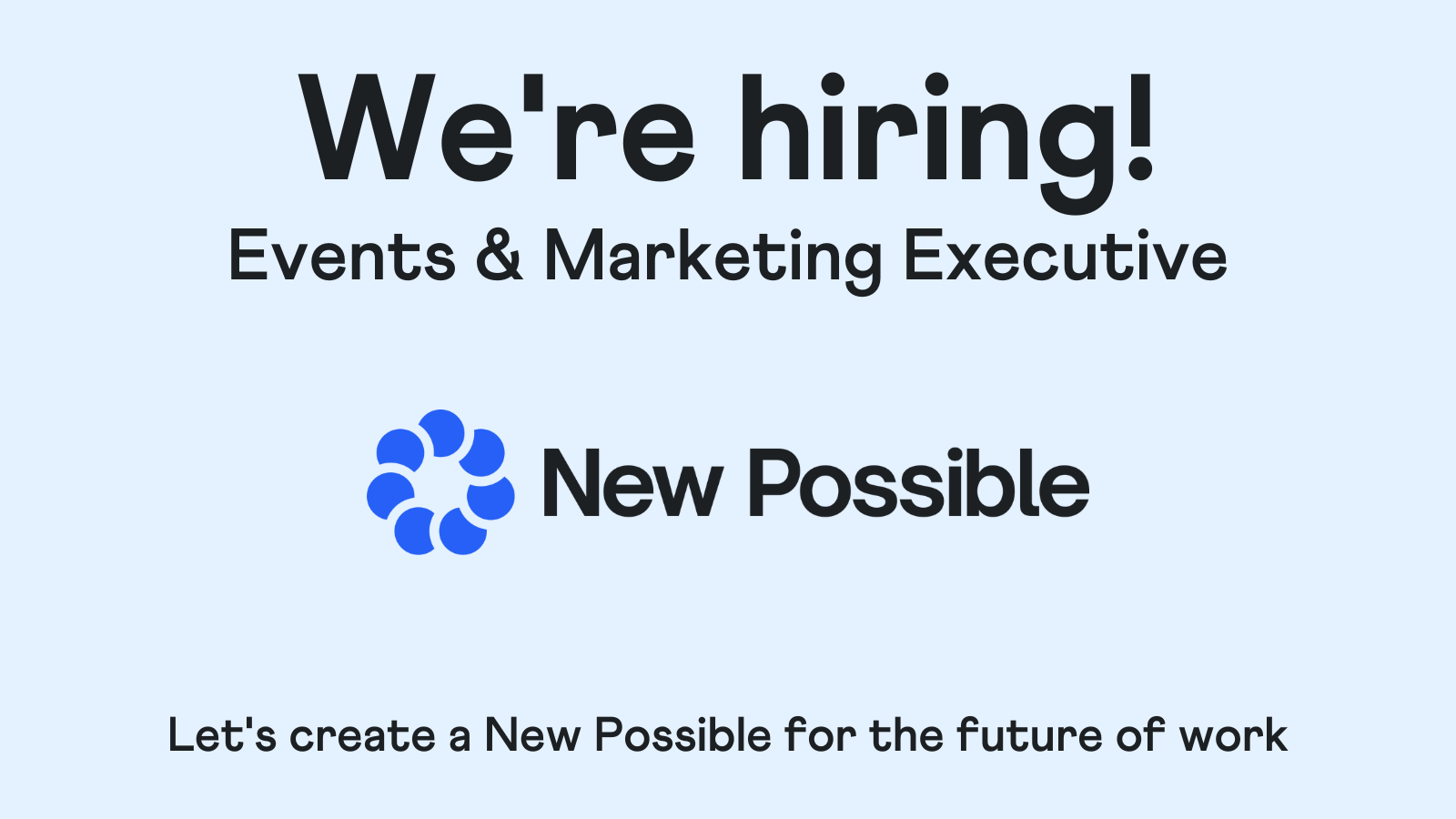 We're Hiring: Events & Marketing Executive
Published on 21st October 2022
>> Please note: Applications for this position are now closed. <<
Events and Marketing Executive
Stockport, Greater Manchester - Full Time (Permanent)
Let's create a New Possible for the future of work.
New Possible is a next generation employee insight platform that helps leaders build healthier and more agile businesses. Founded in November 2021, we're powering the people experience of top employers across a range of sectors, including finance, biotech, hospitality, engineering, legal and more.
We're also passionate about recognising and celebrating success in the people profession through a calendar of headline events, including the British HR Awards and British Recruitment Awards.
We've got big plans for 2023 and we're looking for great people to join and play a key role in our journey.
Who are we looking for?
We're searching for an ambitious self-starter who's creative, detail oriented and not afraid to take responsibility. You'll also know the importance of delivering a great client experience.
Ideally you'll have 1-2+ years' experience in an events or marketing role. A background in the HR or SaaS sector is a plus, but not a must. You'll also have a passion for social media and content creation.
This is a great opportunity to make a real impact at one of the North West's most exciting tech start-ups.
Role requirements:
1-2+ years experience in a marketing or events role
Excellent communication skills – both verbal and written
Strong organisational and planning skills with the ability to prioritise across multiple campaigns
Excellent attention to detail
Ability to write engaging and influential copy
A motivated self-starter who can work independently
Strong design skills are also desirable
What you'll be doing
Working directly with our Founder, you'll be responsible for organising, promoting and growing our events programme.
Coordinate events – from planning key dates, to bringing our events to life, you'll play an important role in delivering our exciting events programme;
You'll be tasked with developing a new headline event for summer 2023;
Create engaging content to help promote New Possible across its digital channels;
Collaborate with our developer and wider team;
Sell tickets, issue invoices and coordinate attendee lists;
Other ad-hoc duties as required.
What we offer
£22-24k dependent on experience
A clear path to progression
Flexible working
1 day in the office per week
Quarterly team days
25 days annual leave (plus bank holidays)
Company pension
The opportunity to make a real impact
To apply for this role at New Possible, please email careers@newpossible.io with a cover email and CV. If you have any questions at all, please don't hesitate to contact the team on 0161 706 0618.
No agencies please :-)
Back to the blog