New Possible helps to build healthier businesses by empowering leaders to unlock the competitive advantage of their people.
We spend a quarter of our adult lives at work - around 90,000 hours on average. And yet, research suggests that less than 36% of us are engaged by what we do. What if we could tap into that other 64%? It's pretty clear that when people thrive, organisations thrive too.
I'm Nate and I founded New Possible following several years leading the insight proposition for a financial services research firm.
During this time, it became evident that if employee's hearts and minds are aligned with their organisation, that same energy will feed into everything the customer experiences - from product design to the quality of face-to-face service.
By nurturing the employee experience and culture, customer experience has a chance to really reach its true potential. To me, it's clear that when harnessed correctly, engaged and satisfied employees are the most powerful source of sustainable business growth: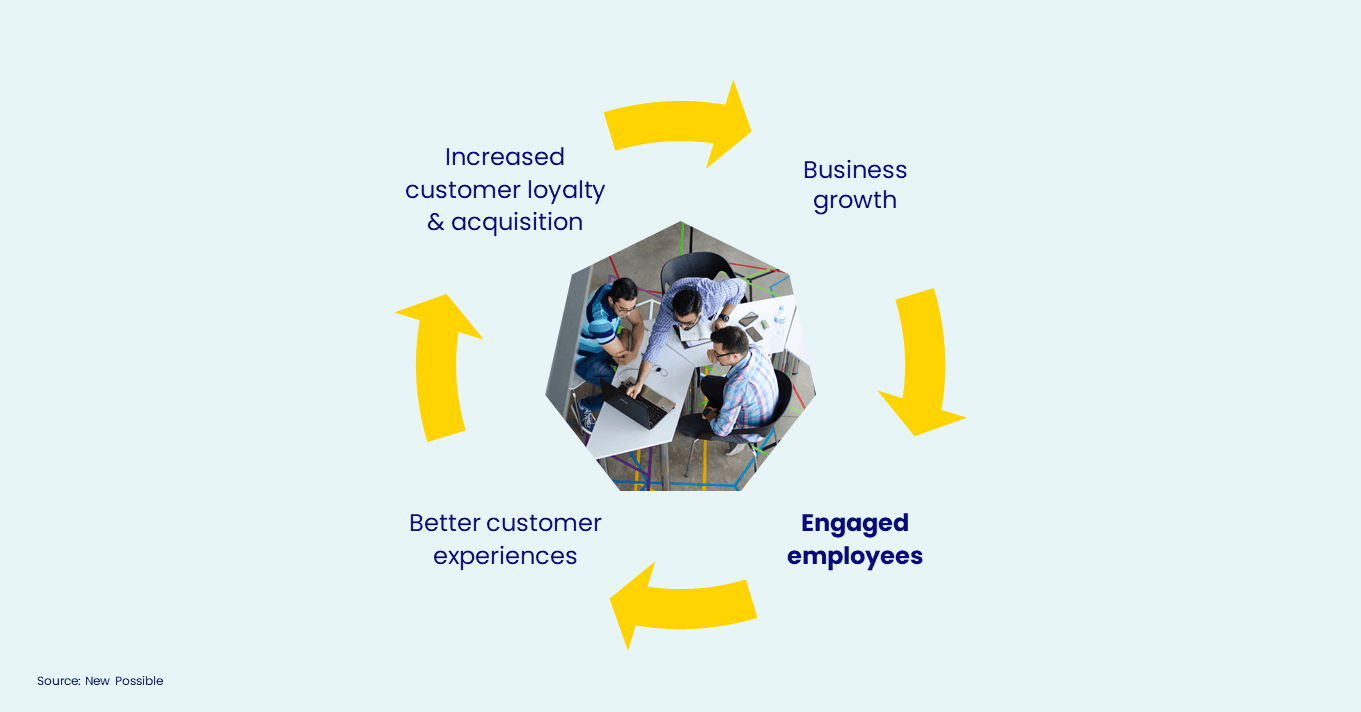 I found that although many organisations actively listen to customers, approaches to employee voice are often less developed. SME's are also particularly underserved, despite employing more than 60% of the UK workforce. With fewer resources, they require an actionable solution that is easy to implement and cost effective.
On a mission to make actionable employee insight accessible to everyone, I listened to people leaders across the UK and set out to create a next generation platform that was guided by the following four principles:
Deliver value to clients from day one;
Provide insight that drives real change;
Accessible to every organisation, no matter their size;
Discover and celebrate the individuals, teams and suppliers that are passionate about delivering a world-class people experience.
And with that, New Possible and the British HR Awards were born.
Our Mission
Our mission is to empower every leader to unlock the competitive advantage of their people.
We'll achieve this through meaningful insight, dependable service and ease of use. Here's what this all means in practice:
Meaningful and relevant insight
We know that for insight to be valuable, it must have the potential to drive real change. We are committed to making insight as robust and accessible to you as possible. Below are some of the features that you can expect from us:
Our benchmarkable NP360 assessment objectively assesses your workforce across seven themes, including wellbeing and culture. It adopts proven techniques from leaders including the World Health Organisation
Insight is accessible through a 24/7 dashboard
Built-in anonymity thresholds provide the psychological safety employees need to say how they really feel
Always-on survey distribution means that you can develop a real-time view of your workforce
Our AI identifies what's driving employee satisfaction and loyalty, so that you can quickly see what matters most to your people
A library of benchmarkable surveys, including CultureCheck, and a custom survey builder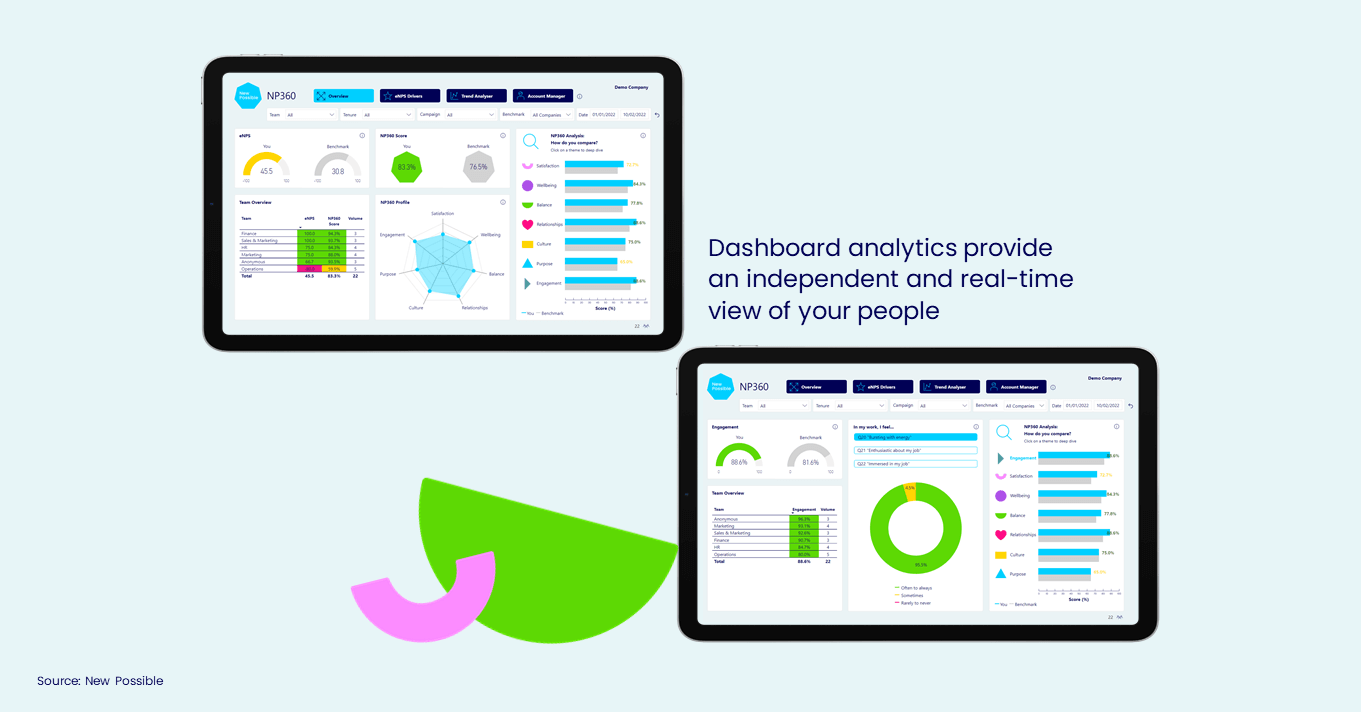 Unlimited access to a people chemist
We want to create a partnership that lasts. That's why you have unlimited access to a people chemist. From the moment you join us, you'll be introduced to a single point of contact who will help you get the most from New Possible.
A solution that's ready to deliver value from day one
We know how busy you are. That's why you can choose from a library of expertly crafted surveys or create your own. We'll even manage survey distribution so that you can focus on using your insight to build a healthier business.
New Possible is the next generation employee insight platform that helps to unlock the competitive advantage of your people. Book a demo to learn more, or read about our quest to discover and celebrate the individuals, teams and suppliers that are passionate about delivering a world-class people experience.
Back to the blog